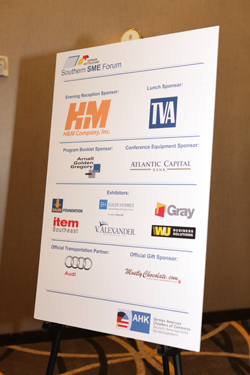 Trade shows are excellent opportunities for business owners to get the word out to a larger audience about their products and services. When planned carefully, exhibiting at a trade show can make a noticeable difference in a company's bottom line. A successful trade show exhibit is not put together overnight, and well-designed print materials can be vital tools in catching the interest of potential customers.
(Photos: Marketing Materials by THP provided to our wonderful clients German American Chamber of Commerce.  http://www.gaccsouth.com/)
1. Eye-Catching Pre-Show Marketing Materials. In the weeks leading up to a trade show, sending printed announcements to current customers is a proven tactic to generate early interest in a company's exhibit. These announcements can be as simple as postcards with the name, dates and location of the trade show as well as a floor map showing the business's exhibit booth spot. Some company owners send out the same information via email to their customers, but an extra investment in printed postcards can have a more memorable impact.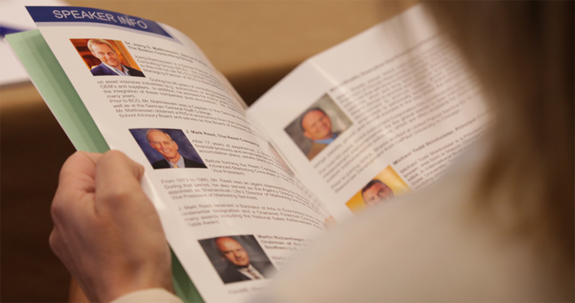 2. Visually Appealing Banners and Backdrops. These larger-scale printed materials announce a business's slogan and marketing message to all trade show attendees who walk by an exhibit. Fabric backdrops can be screen-printed with these messages and placed in prominent spots at a trade show booth. The same applies to banners that are frequently hung on the front of exhibit tables.
3. Samples of Products and Services. Many business owners want to take actual samples of their products for trade show attendees to try out, which can be a powerful marketing maneuver. For some other entrepreneurs who helm service-based businesses, samples often present impracticality. This situation is where high quality, informative printed materials can come into play. Detailed catalogs and flyers are excellent tools for demonstrating exactly how this type of company can meet the needs and wants of its target customer base.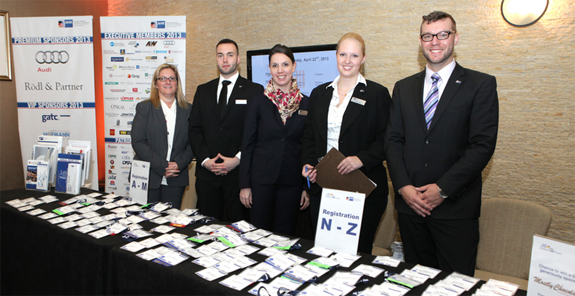 4. Professional Sales Demonstrations. A common mistake among first-time trade show exhibitors is to simply hand visitors printed literature to read without further customer engagement. An essential part of any trade show booth is a well-trained, knowledgeable group of salespeople who are able to answer questions and explain company features in more detail. Pairing this level of customer engagement with interesting print marketing materials will help to capture the interest of trade show attendees who have many other things vying for their attention on the exhibit floor.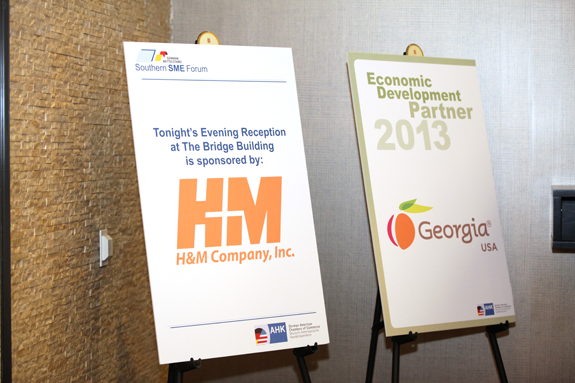 5. High Caliber Company Literature. Even with the popularity of digital advertising and web-based marketing materials, printed company brochures and flyers still make vital first impressions on potential new customers. High quality images, lettering and layouts all send the unconscious message that a business is staffed with knowledgeable individuals who make each customer a top priority. Trade show attendees who have printed marketing materials placed in their hands are statistically more likely to find out more information about a business's products or services at a later date.
6. Promotional Giveaways- Don't forget to distribute customized promotional products as giveaways to those attendees who visit your booth. Giving away promotional products at trade shows helps attendees to remember your business name, increases traffic to your booth and will also create a positive brand image. Promotional products for trade shows can be a very important ingredient to garner interest and produce a solid and successful event for your business. From promotional bags to electronic gifts you will find everything you need in our online promo store.  Click here to view our selection of budget friendly trade show giveaways!
Get noticed and make a lasting impression on attendees with a consistent design strategy. Let us design your banners, full-color catalogs, brochures and more to match promotional marketing giveaways.
Call Toll Free: 1.877.847.8473
Get a Quick Quote here.